The Blue Mountains are Still Struggling after Australia's Worst Fire Season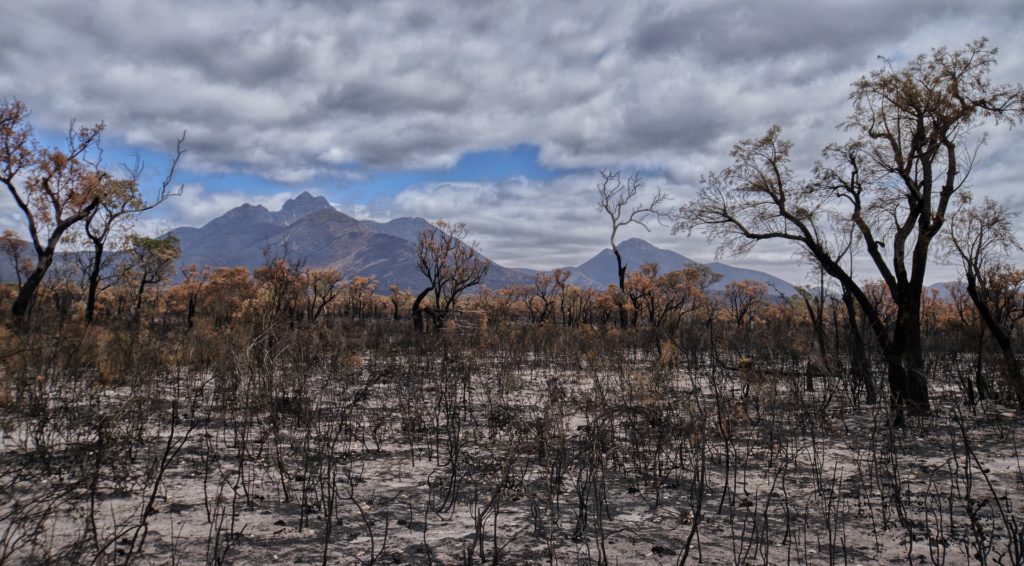 On Saturday 26 October 2019, what would be called a 'mega blaze' ignited in the Blue Mountains. The Gospers Mountain fire would soon become one of the most devastating blazes to burn throughout Australia's worst fire season in history. No town in the Blue Mountains was untouched by this blaze, nor other blazes such as the Ruined Castle fire, Green Wattle Creek fire, and the Grose Valley fire which all burned around the Upper Mountains during the season, decimating homes, businesses, and livelihoods. Despite the catastrophic season having finished, and media coverage slowing down, it is taking its toll even today, six months after the first blaze began to spread.
Just west of Gospers Mountain is Katoomba, a town reliant on tourism to fuel its economy. Its iconic Three Sisters, usually bustling with tourists throughout the summer period, was blanketed in thick, dark smoke throughout the 2019 season. Echo Point lay empty. The scenic Kings Tablelands, which stretches out behind the Three Sisters, now invisible below the suffocating clouds. Restaurants, gift shops, guest houses and motels closed down, casual workers were laid off, and people sought to flee their homes. Burned leaves fell on the town, and sirens were a constant, not-so-distant sound, reminding you that everything you hold dear could soon go up in smoke–literally. Only the bravest of residents stayed to defend their homes. Buckets full of water littered gardens, and hoses remained running at all times, ready for somebody to pick up and battle the inevitable ember attacks when the wind changed.
Personally, my home lay just a kilometre or two from the Grose Valley fire which ravaged Blackheath. The sky glowed an eerie red and orange at all times of the day and night. Helicopters flew overhead constantly as they bombed the fire with water and fire retardant, while also delivering specialised RAFT (Remote Area Firefighting Team) to traverse the burning valleys.
I was lucky. I did not have to face any ember attacks, and when the fire flared to life after a gust of wind, it was never in my direction. My home, through a miracle, did not burn. However, this is not the case for many Blue Mountains residents, including the local wildlife. One billion animals are estimated to have died as a cause of the bushfires throughout Australia. The Blue Mountains is home to kangaroos, koalas, echidnas, wombats, possums, and many other native animals. Through governmental ignorance and environmental mismanagement, the Blue Mountains and its residents became mere collateral. We were just in the way of the inevitable according to politicians. We were assured that there was absolutely nothing that could have been done to avoid such a tragedy. But there was.
"By consistently choosing short-term economic growth, successive governments ignored climate science, prepared inadequately and left Australia's natural environment and its people at the mercy of worsening climate events. They allowed a localised, often-manageable seasonal weather event to become a continuous catastrophe, limited neither by season nor by geography."

– Imogen Champagne, The Correspondent
We had the tools and the advice of experts to prevent such a devastating fire season, which burned an area larger than the Amazon Rainforest fires in August 2019, and the Ash Wednesday fires of 1983. According to the ABC, 12.6 million hectares were burned, 434 million tonnes of CO2 was emitted. That is more than three quarters of what Australian industries emitted in the 2018-19 period. Greater use of hazard reduction burning, lowering of CO2 outputs, the prevention of coral extraction and other environmental considerations could have prevented Australia's Black Summer.
The Blue Mountains are still struggling. Business never went back to normal before the COVID-19 lockdown. Many business owners were robbed of their summer business and are in an unstable position today. And if nothing is done, it will happen again, and again. We will have no choice but to welcome our new normal.
By Heather Burke