Q&A with 'All for a Promise' author Vrishali Jain
Vrishali Jain is a talented writer who has written for the last two anthologies and for various radio channels in India. Originally from Kanpur, India, she now calls Sydney home, busily working as a producer at SBS Hindi.
'All for a promise' is an inspiring tale of a community-led tree conservation movement in New Delhi. Her story chronicles the courageous women who fought against the destruction of the forests. The Chipko movement became well known for the peaceful protest, of women creating physical barriers and hugging the trees.
What is your story about?
My work is a fact-fiction piece drawing upon one of the most prominent examples of citizenry activism in ecological movements, the Chipko Movement.
What book from your childhood has shaped you the most as a person or writer?
As a child, I read Charles Dickens and Charlotte Bronte. My interest in writing was piqued by the Nancy Drew series, Jane Eyre and A Tale of Two Cities. There are many books that left a lasting impact on me, but two major ones are The Fountainhead by Ayn Rand and Jonathan Livingston Seagull by Richard Bach.
What does your writing space look like?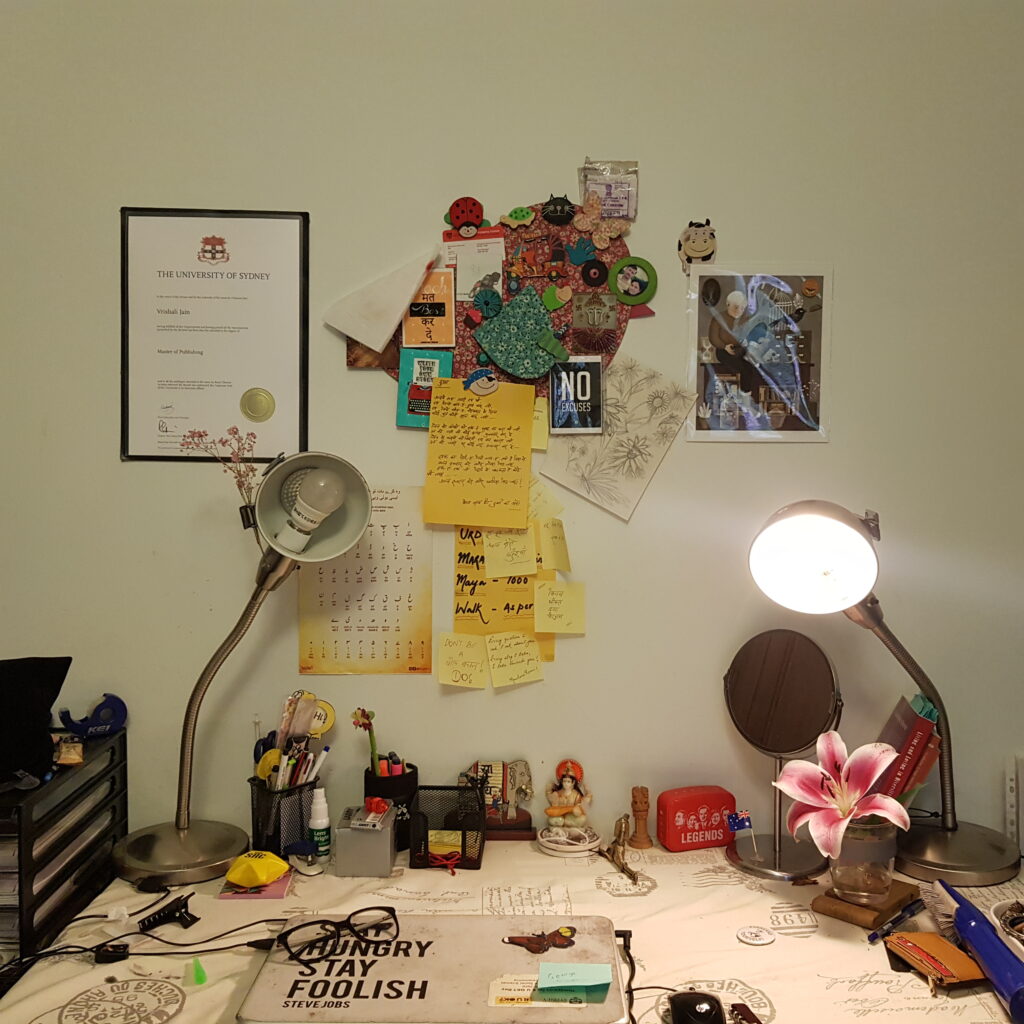 Why is climate change and the environment important to you?
I have seen the impacts of environmental mishandling and climate change first hand. I come from a Riverside town, and we've seen the river shrinking, being increasingly polluted and seasons turning warmer by the year. It disturbs me. The loss of forest cover has also added to the environmental fragility, of which the recent example are the Glacier floods in India.
What did you learn while writing your piece?
I researched about the Chipko Movement in great detail and understood how organised citizenry can make a huge difference. The villagers of Reni Village despite being less educated and unexposed to the urban ways, upturned a massive government order just because they stood together. That for me, was the biggest takeaway.
Where did you get your idea for your piece? What inspired you?
Chipko Movement literally means the Movement to Hug. Villagers from the foothills of Himalayas hugged the trees in their neighboring forests when contractors came to fell them. They treated their forests as a member of their family.
This innocence, this empathy for nature has always fascinated me. So when the opportunity to write on Climate Change came through the USYD Anthology, I chose this. I really believe that an emotional connection with ecological conservation truly leads us to a cohesive living.
---
Earth Cries is a climate change anthology dedicated to a world burning. Tackling all aspects of climate change, Earth Cries is bold in exploring the damage caused by the Black Summer bushfires and even in imagining cold futures drowning below the ever rising sea. Featuring a foreword by Dr Karl Kruszelnicki, Earth Cries is now available at sydneyuniversitypress.com.au.