Q&A with 'Tis Already In' artist Yasodara Puhule-Gamayalage
Sydney University student Yasodara shares her inspiration behind her beautifully creative artwork 'Tis Already In'. She is a painter and music composer who expresses herself on canvas as a person of colour and a member of a generation united in eco-anxiety.
What is your artwork about?
'Tis Already In' is essentially a mixed-media work that represents the collective fever dream of manmade misery that we face with climate change. The jarring yet familiar 'scenes' of cremated telegraph poles, parched soils of once lush forest, suffocating corals in a drowning world and a city in the path of a cyclone are littered with newspaper headlines, dreamtime stories and a cave painting that record the legacy of the Anthropocene. Overall, the painting is a reminder of the circularity of disaster – the inevitability of death – that it is already here, already come in.
In general, I do not restrict myself to any single theme of exploration although I admit that social inequality and climate change have made more cameos than others. It is an awfully predictable part of being from an ethnic minority and a generation that is notoriously concerned about the future of the planet.
What does your art space look like?
My art space is rather compact yet despite its size, I have managed to make myself an enclave of sanity at one end serviced by natural light and much fewer scraps of wood and gadgets that I hope to use in future projects. This space is, however, not a constant because I like to position myself in various temporary locations as per the requirements of the project.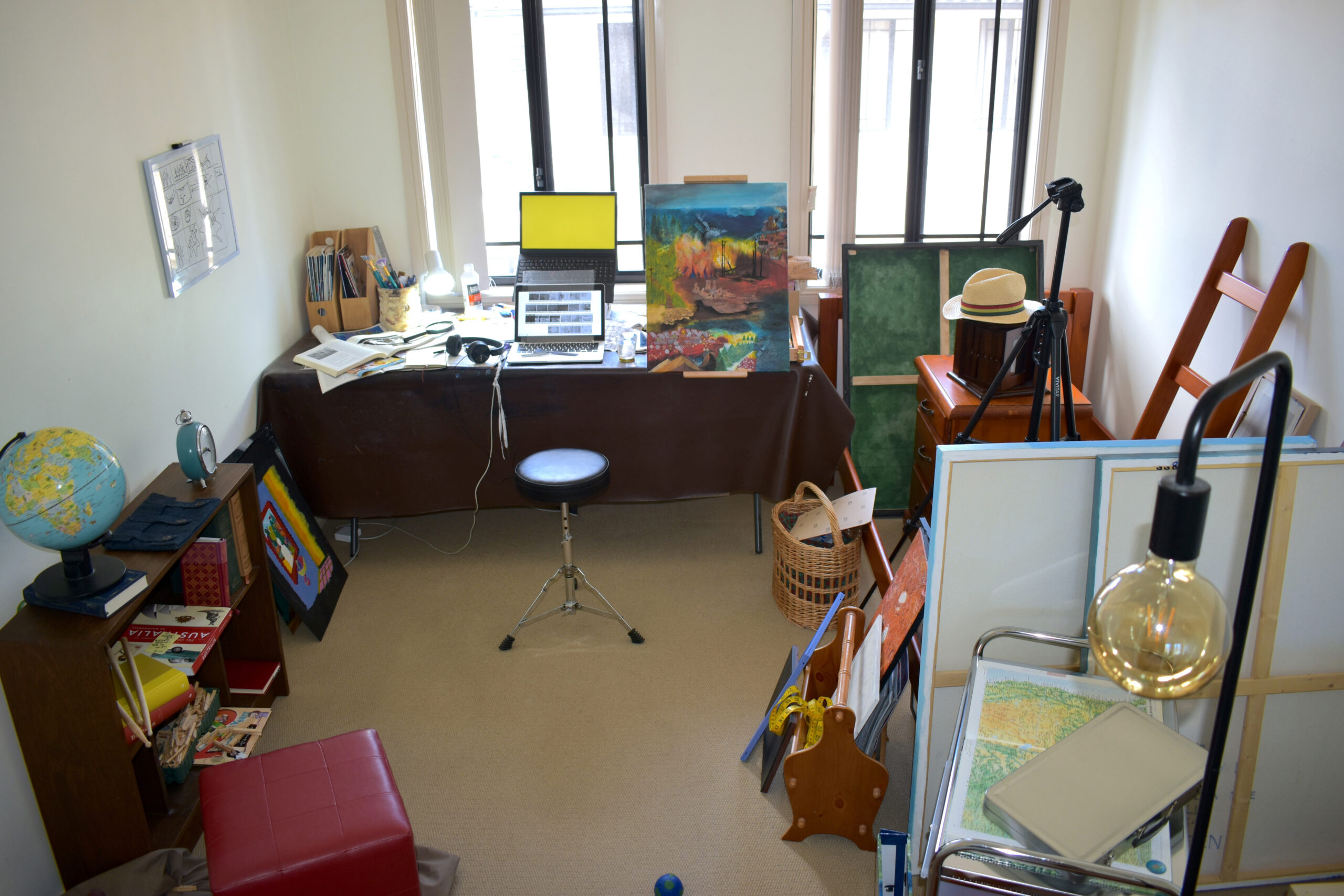 Where did you get your idea for your piece? What inspired you?
Having not been planned like my other work, 'tis already in was initially an experiment in translating the literary technique of stream of consciousness into painting. Hence why compositionally, it is quite a mess – a mess that makes sense, I hope. Over the course of a fortnight, I revisited it, building up its layers and adding the collage elements such as the shrunken newspaper headlines about Cyclone Tracy.
I remember quite well that there had been yet another mass bleaching event in the Great Barrier Reef and a sweltering drought was blanketing across eastern Australia when I decided to paint this in 2018. What prompted me to begin was a recent obsession with the legacy of humankind – the planet that we as a species will leave behind.
Why is climate change and the environment important to you?
Climate change is important to me because it is a symptom of social inequality that represents a collective set of issues fermented over millennia. As a Gen Z, every day I witness my peers confronting these power structures that oppress society and the environment and, naturally, I feel compelled to contribute but the 'how' is yet to fully dawn on me. Until it does, I shall persevere because time has still afforded mankind with some degree of optimism about the future of the planet.
What did you learn while creating your piece?
Whilst creating 'Tis Already In', I learned to trust myself with experimentation and to exercise a greater degree of patience, relying less on direct references and more on my imagination and memory.
---
Earth Cries is a climate change anthology dedicated to a world burning. Tackling all aspects of climate change, Earth Cries is bold in exploring the damage caused by the Black Summer bushfires and even in imagining cold futures drowning below the ever rising sea. Featuring a foreword by Dr Karl Kruszelnicki, Earth Cries is now available at sydneyuniversitypress.com.au.