Looking Back – University of Sydney Anthology 2016 – The Pipe by Tereza Crvenkovic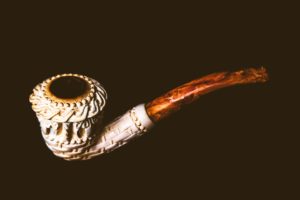 The Pipe by Tereza Crvenkovic
It came into our family possession about ten years ago, when my aunt, Ljiljana, keeper of family treasures, came to visit. With the pipe, she brought several other idiosyncratic pieces with her, including a carved wooden cookie cutter from around the same time, and a small wine glass given to my great-grandfather to commemorate a banquet he attended with the ill-fated Archduke Franz Ferdinand in Sarajevo.
I've often pondered the epic survival of small objects. Perhaps seeming insignificance ensured the survival of the pipe? It wasn't deemed previous or threatening enough to confiscate or destroy, as was the case with the rest of the family estate when the Communists came to power in 1945. Perhaps, when all was lost, a shift occurred; the small and unassuming pipe gained new significance.
Is unassuming simplicity the key to survival?
Not long ago, my ten-year-old niece pieced up the pipe, took a good look at it. There was an expression of disbelief on her face.
'How did he smoke it?'
'I'm not sure. But the pipe will be yours done day.'
'Why?'
'Because it's precious.'
Uttering these words, I came to the realisation that the pipe is not so much a pipe, but a symbol of our family history, of our survival. A symbol of hope, a connection to times gone by and times to come for generations in our family.
The precious pipe, now a family heirloom. Something unimaginable to my great-grandfather, puffing on his pipe back in Habsburg Bosnia.
Feeling inspired? Submit your work now at https://www.usydanthology.com/submit/