Looking Back – University of Sydney Anthology 2016 – Building by Persephone Fraser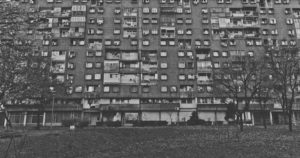 Building by Persephone Fraser
As a siren slides off, like ribbon through fingers,
like smoke breathed out, the heat is near,
and then not. The street is near, and then not.
I hear voices of people beneath the street,
and see the lights across the city, but mine is out and I am quiet.
The walls have been here long before me,
know all the sounds, all the faces.
When the light is out, the night is all around.
When I come home, up the stairs, breathing heavy
the walls breathe to, come close.
Feeling inspired? Submit your work now at https://www.usydanthology.com/submit/
Save