Throwing Glitter at Christians
Excerpt from Throwing Glitter at Christians by Connor Parissis, Student Anthology Diversity 2019.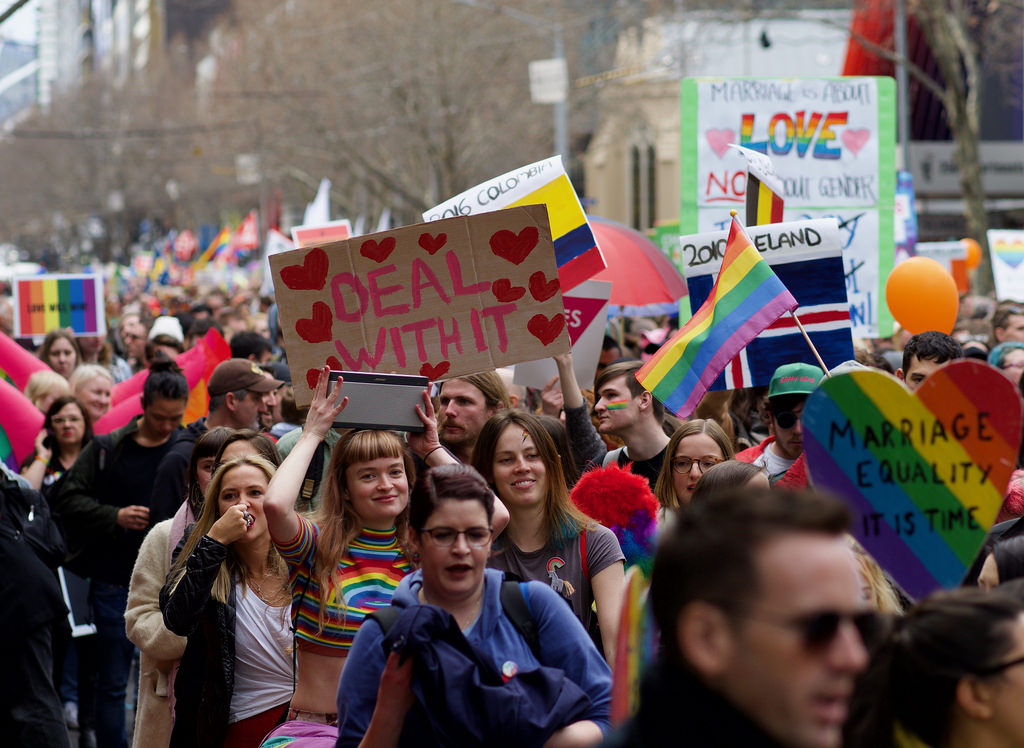 Glitter filled the air. We danced among it like children in the eternal gardens. We threw it in all directions, on them and on ourselves. We doused their signs in it. We laughed and we mocked as the perseverance melted from their faces. We coloured the avenue with it like it was our war paint. The sunset dwindled and the campus began to empty. Both sides knew this minor battle had ended, both of the assumption they were the victors, but the war had only just begun.
I returned home the night of the protest, huge grin on my face from a successful day of pissing off homophobes. Until I saw it: the footage.
'The footage you are about to watch was captured on the 14th of September 2017, at the University of Sydney as pro same-sex marriage advocates surrounded and overran an information stand upholding traditional marriage.'
The entire event had been filmed. Albeit cleverly edited, placing me front and centre. There I was, stealing their signs, screaming, yelling, and throwing an assortment of products at them. Infamous commentator Andrew Bolt time-stamped some of the footage's finest moments:
58:58 'No' student assaulted.
1:51:30 'Yes' student grabs for sign, appears to kick.
1:52:00 Pushing and shoving, glitter thrown: 'I want to stomp on your heads, it would be beautiful!'

1:52:46 Woman pours red dye and glitter.
1:53:22 More glitter and dye thrown.
1:54:35 Sign destroyed, abuse, shouting down.
I could hear it in my voice, the anger, the hurt and the pain. I knew I had been moments away from crying, but the world did not. I had become trapped in their intricately woven web of conservatism and hate. The NO campaigners labelled themselves the martyrs of free speech.
Perhaps I was the martyr?
With my bedroom door locked, eyeballs glued to the cool blue of the screen, I tortured myself by reading any mention of the event. The Herald Sun labelled it 'Sydney University's Gay Marriage Thugs Attacking NO Students.' Some of the press was kinder, 'Police Called as Hundreds of Protesters Surround Sydney University's "Vote No" Rally.' But this event was the first chance to look unkindly on the otherwise love-driven YES campaign, and it spread like wild fire. With the domination of their narrative, I began to believe it, to feel it, and live it. As I stared back at the person on screen, someone I could no longer recognise, I saw myself as a setback to the movement – as a betrayer.
I spent days with a blanket wrapped around my entire body for safety. I couldn't eat but my stomach continued to empty itself of bile. Too scared to leave the house, I had to explain the situation to my lecturers, I did not feel safe to go to class, let alone be out in public.
Severe depression and anxiety are old friends of mine. I had struggled with these lingering pests from the age of thirteen. But these thoughts weren't welcome when it was no longer my own brain telling me I ought to die, but the general public. I had never experienced true fear for my safety – until I was instructed by the free legal service on campus to go incognito – change my number, stay hooded, delete any social media accounts, dye my hair to something less distinguishable. Disappearing seemed theeasiest course of action, I just never anticipated that I would go under the radar for two whole years.
But there was no choice.
The 2020 Sydney University Student Anthology is now open for submissions on the topic of climate change, so send us your artworks, poetry, short fiction and non-fiction. Submit here.