Submissions Now Open! Your chance to be published in the 2017 USyd Student Anthology
Writers, poets, artists and photographers – the University of Sydney wants YOUR work for the 2017
student anthology:
The Quotidian
The theme of the Anthology is the everyday – The Quotidian – and how you respond to this theme is up to you! We are looking for examinations of the mundane, the things overlooked and the things taken for granted; and we are looking for subversions into the weird and bizarre.
Submissions of fiction, non-fiction, poetry, art or photography inspired by the everyday are welcomed, whether tightly focused or loosely linked to the theme.
Please submit your work before the deadline of 31 July 2017, and if you have any questions please feel free to contact the Anthology team at syd.anthology@gmail.com or via our Facebook page.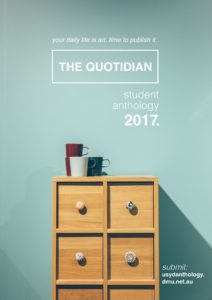 Submit your work now at https://www.usydanthology.com/submit/